This week I was invited to my local shopping centre intu Milton Keynes to get the low-down on what was hot in fashion and beauty for Autumn/Winter 2016.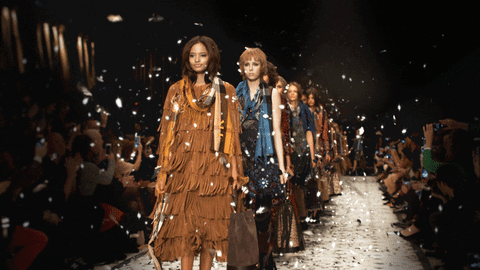 intu have teamed up with epic style blogger Megan Ellaby to showcase the biggest trends for the upcoming colder months. She's a bit of an inspiration to me so was excited to see what looks she had created especially for intu. 
I am definitely an autumn and winter bunny. From cosy nights in as a family, curled up under thick blankets, to seeing the twinkle of Christmas lights and the pop of fireworks. 
Fashion isn't too hard to smile about either. I love being able to wear my coats! Faux fur, big scarves, warm boots and tights with all your skirts. What's not to love about autumn winter clothing?
That's also without thinking about party season! Where sparkly sequins are as important as the trimmings of a Christmas tree, capes are not just reserved for superheros and the perfect black dress is quintessential. 
There's a style garden set up in the main concourse of intu where you can go and see the outfits showcasing this seasons trends all chosen by Megan Ellaby. 
intu may have enlisted the power blogger Megan Ellaby to cherry pick her fave fashion finds for AW16 but this little blogger (ME!) was also being challenged by intu!
I was given a task sheet with two challenges on it created specifically for me. Take a look at my challenges below:
Task one was to browse Levi's, Topshop and New Look to find a look inspired by the heritage trend that would be perfect to wear on a day out with the family. 
The heritage trend explained: Think classic British country style with a fashionable edge. Throw on chunky knits, check prints and ankle boots for bags of autumn and winter heritage style!
I first headed to New Look. 
New Look at intu Milton Keynes is such a good place to shop. First it is a HUGE store but secondly it's New Look, so it's filled with up to the minute fashion trends at very reasonable prices.
As I predicted the shop was packed with ideas. One particular piece ticked all the right boxes for me and is rightly my MUST BUY heritage trend item from New Look. 
Let me start off by saying this gorgeous check shirt is only £14.99! 
It's also made with the most super soft fabric, has a flattering length and is so easy and comfy to wear for a day out with the family. Did I mention it was only £14.99?!
Feeling quite pleased with myself I left New Look and skipped down intu and found myself in front of Topshop. 
Topshop has been one of my fave shops since I was barely a teenager. You know when a shop just agrees with you? That's how I feel about Topshop. 
Browsing around the store I was cooing over so many items when I stumbled into the rear of the shop where they have their shoe collection. 
I came face to face with these chunky ankle boots and knew immediately they were my perfect Topshop piece for the heritage trend challenge. 
They have a sturdy platform heel that is not too high. Perfect for us ladies who need a little help in the height department but don't want to be tottering around all day in delicate heels that end up making us limp!
They are priced at £79.00 and possess a key fashion trend for this season. The chunky, heavy tread because-I'm-ready-for-anything heel.  
Last shop included in my challenge task was Levi's. 
Levi's might be an American clothing company but if anyone knows how to do effortless country-come-urban chic, it's them.
From their infamous denim products that just last and last and last to their high quality cotton shirts and knits, they are a brand that have survived the decades to become an icon. 
It's something of a vintage inspired piece that caught my eye and is my final choice for the perfect outfit for an autumn or winters day out with the family. 
This sheepskin-style lined jacket packs everything you loved about wearing a denim jacket in the summer but makes it warm enough for the colder months.
It's priced at £110.00 so it's definitely an investment piece but as I previously mentioned, invest in Levi's and it will last you a very long time. 
Wearing this jacket, it's clear how cosy and comfortable for a day out with the family it is, whilst being hard-wearing and practical. I love the vintage feel too. 
So that's it for my first task! 
For my second task I was sent to Lush. Like inviting a child into a sweet shop, I think intu have a clue about what makes me tick! 
Lush is the most amazing cosmetics (smellies) company that use natural and fresh ingredients to create bath bombs, bubble bars, shower gels, soaps, shampoos and conditioners and on and on. 
Everything is cruelty free (means no animal testing) but Lush are a bit more than that as ambassadors fighting the corner for helping push the whole industry to be cruelty free. 
Good ethics aside, the products themselves are astoundingly yummy and a pleasure to use.
My challenge at Lush was to find the perfect bath bomb for winter and the best face mask to combat the cold weather. 
As a self-confessed Lush addict, I sadly knew that the winter collection was still a little way off being available in store but that doesn't mean I didn't know exactly where to look for the perfect bath bomb for a winters bath. 
This is the Twilight bath bomb. 
This bath bomb seems perfectly suited to the winter months. Packed with ylang ylang and lavender essential oils, it's soothing and calming, creating an aura of tranquility and peacefulness that autumn and winter are renowned for. 
For the £3.75 price tag it might even help you sleep, perfect for those sleepy hibernation months. I challenge any of you to try it and not feel it's relaxing powers. 
To give this bath the perfect winters cherry on top, I went one step further and choose this Butterball bath bomb to add together with the Twilight one for the ultimate bathing experience. 
The Butterball bath bomb costs £2.75 and is the perfect bath bomb for dry or sensitive skin. After use I always feel like I have the most luxurious and buttery skin! 
Combining this with the Twilight bath bomb is going to make one seriously relaxing and moisturising bath.
The last part of the Lush task was to find the perfect face mask to combat the cold weather that can play havoc with your skin in autumn and winter. 
Lush make a wide range of fresh face masks. By fresh, I mean exactly that, fresh ingredients which means you have to keep them in the fridge!
The face mask that I think is perfect for autumn and winter skin is called Oatifix.
This face mask is all about nourishment. Filled with fresh bananas and illipe butter to moisturise dry skin. Sounds perfect for winter, right? 
Pop this on your face and leave it for 10-15 minutes before washing off in warm water and I promise you, you won't have to fear the winter weather anymore.
So that's it. My two challenges set by intu Milton Keynes have been completed. 
I hope you've enjoyed this post as much as I did making it for you all. 
Lastly, here's a peek into the amazing goody bag that intu Milton Keynes gave me (filled with samples and bonus Lush goodies!). 
Even the bag that it all came in is really cute!
Thanks for reading and don't forget to join me on Facebook, Twitter and Instagram!