Joseph and his Dreamcoat is in Milton Keynes this week starring Union J's Jaymi Hensey as Joseph. Read here how it feels after nearly thirty years since my first Dreamcoat experience
I'm hearing from lots of you that Joseph and the Amazing Technicolor Dreamcoat was the first musical you ever watched, well, that was true for me too.
I remember this image (above) from my first Joseph experiences in the early 90s. I can't quite remember if I saw Joseph when Jason Donovan was on the stage or whether I just remember his Joseph singles in the chart.
I think it's likely I saw Phillip Schofield in the lead role circa 1992 and the above logo is ingrained in my brain memories because I had a rubber, or a pencil or a keyring or one of those things that kids buy from gift shops after they've been on a special outing.
But whoever it was, Joseph had itself a real moment in the early 90s that shined like a glaring rainbow beacon of musical theatre to my generation.
And while I remember it wasn't 100% for young me*, Joseph was the stage show that pathed the path for me to how mesmerised I was with musicals.
*Close Every Door was worth seeing the show for alone though.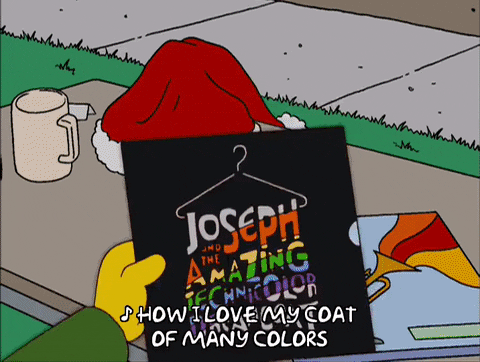 Before Joseph, theatre was all pantomimes for me and this was the first step from pantomime to the grittier musicals that floored me in my teens. My intense love for Chicago, Wicked, Les Mis etc.
Some nearly thirty years later, Milton Keynes Theatre invited me to see Joseph and the Amazing Technicolor Dreamcoat again and I was keen to see if as an adult, how was I going to digest it on a maturer stomach.
Joseph and the Amazing Technicolour Dreamcoat is currently in Milton Keynes until Sat 13th April 2019. 
It stars Union J's Jaymi Hensley (X Factor) in the title tole.
I went into the performance last night wondering if I was even further removed from a place where I could enjoy Joseph's world.
With the upbeat songs, jazz hands and high pitched female narrator, I feared the performance was going to feel as aged and old and I do most days, but I have to say in defence of both; maybe not quite.
I know why I didn't want to sell my soul for it as a kid.
Somewhere between the children filled chorus choir, the biblical origins of the man who could interpret dreams with his gift from god, it makes me want to rebel. It's so clean and so the opposite of the grungy, dark minded Bou from the 90's. But bounce that off the huge Joseph numbers where Jaymi Hensley shook the foundations of the Milton Keynes Theatre with his incredible voice, you have the magic of why the musical still has sell-out audiences and is even set for a huge London visit this year with none other than one of my favourite artsy ladies, Sheridan Smith set to star in it as the narrator.
But back to the MK and tour production and when Jaymi Hensley sung Close Every Door, goosebumps covered my body. I think it was the same reaction when I was kid, nearly thirty years apart.
I have to acknowledge that without Joseph and Andrew Lloyd Webber, would I have stepped into more theatres to watch more musicals, would I have fallen hard for musical theatre and would I have followed in training in it for myself? Maybe Joseph needs more credit than I have courage to show it.
But I am not going to stop gushing about Jaymi Hensley. The quality of his performance and talent alone is enough to saddle your camel and get over to MK theatre to catch him in this role while you can. If Jaymi choses to stay in musicals (which he should!) he has the makings of a musical theatre legend, seriously.
This morning I stumbled across this video of him singing Bring Him Home from Les Miserables, just get a load of this 👇🏻😱🔥
For full transparency, tickets to see Joseph and the Amazing Technicolor Dreamcoat were gifted to me from Milton Keynes Theatre for which I am extremely grateful. 🙏🏻 But they have no say in what I've published thereafter and all views in this article are mine and mine alone.